New Stock Fish
One of the main Winter tasks on the fishery is stock management, or to be more precise, the ordering of new fish.
In France this means you have between November and March to get an order in with a reputable fish farmer and get your delivery of new fish. Now I've never been convinced that winter is the best time to stock, as it's the time when the fish are at their most lethargic , are not feeding strongly are more susceptible to virus and if they do get a knock in the transport they will heal very slowly.
I do know though that the lethargic state of the fish is the main reason fish farmers chose this period to transport stock, as they do in fact damage themselves a lot less in very cold water. So I guess you have to roll with the way things are done here in France.
I add the stock to the stock pond, you'll remember if you've read earlier posts on this blog that I received over forty 20lb plus fish in November 2010. These fish were introduced to the stock pond, fed over the winter and moved to the Croix Blanche lake in June & July 2010.
I had the help of my Dutch friend Peter and by simply setting up to fish we managed in fact to catch 50 fish from the stock pond, most of which were over 20lb, upto 25lb. This extra boost to the Croix lake made a big difference to catches, and helped stir up the existing stocks too. Some large bags of carp were had throughout August and September and two of the existing fish came out over 40lb, the best being a 46lb 5oz Mirror.
Following the ongoing stocking programme for the complex I reiterated this procedure by ordering 35 fish from Simon Horton, three year old carp weighing from 18lb to 27lb. Again these fish were introduced to the stock pond to over winter and will be captured in the same way by hook and line to be moved to the Tortue lake next summer.
The benefit of transferring the fish in summer is that they have a far higher tolerance to any viruses in their new environment and will have time to build up immunity during the hotter months.
Having discussed the matter at length with a French fisheries vet, he assured me that the warmer the water the better the chance of the carp surviving unharmed in the new lake. This was born out by the fact that all the fish transferred from the stock pond in July have survived the move. These fish should pile on the weight in the new water.
Croix Blanche Lakes September & October Catch Report
Croix Blanche Lakes September & October Catch Report


Well the rain has given way to very much colder temperatures across northern France and we have even had our first frosts. All of this has naturally had a knock on effect for the fishing at the venue, resulting in the catfish activity slowing right down and the carp being a lot harder to tempt. It seems like the seasons are at least a month ahead of last year.
September did see the fish on a bit of a feeding spree though with Andy Lear's party really getting amongst the fish. On peg 13 Andy had carp to 33lb and catfish to 38lb.

On the Croix Lake peg 2 MarkSanto really did haul, landing 28 carp to upper 20's,while Steve Robinson & Dave Jackson topped their catches with a brace of large catfish of 59lb & 36lb 12oz. See Andy's video in the last blog post.
The Vermeer party from Holland also had some great fish from the Croix Blanche lake, which has seen a real boost in numbers of fish banked since the stocking of 45 twenties to 26lb in June. Their top fish was a superb mirror of 46lb 2oz and is the best this year landed from the water.
As we moved into October Steve Breitsprecher and Gary Hutchinson managed to turn a difficult week around with a very good average size fish. Steve topped his catch with a lovely 42lb common, but also banked commons of 36lb & 27lb as well as mirrors of 32lb, 31lb, from peg 11 on the Tortue lake.
It looks as though we are in for an early and cold Winter, following a very wet second half to the summer. The years follow each other but are so different.

Cheers Gareth
Croix Blanche Catch Report : Festival of Thirties!"
September 2010

Belgain carper Rudy Coussens enjoyed a successful visit to the Croix Blanche lakes on the first week of September.
Fishing on the Tortue lake on the now famous peg 13, he banked fifteen carp and a giant catfish. His average was very good with most of his carp going over the 30lb mark with a top fish weighing in at 35lb. Eleven of his carp were over the thirty pound mark.
To top of his haul of fish he also banked a large catfish that tipped the scales at 54.8lb.
His successful tactic was to use his homemade Mexican Onion flavoured boiles fished with a bait boat to ensure spot on presentation in 3.5 metres of water. These baits were introduced on his arrival and left for 24 hours. The fish soon began to roll on the spot.
Rudy said "…..the first day ( saturday ) I threw my boilies and waited till sunday to fish on it. The first day the carp started to roll like crazy, but I waited…." In all 13 fish fell to this tactic.
Well done Rudy!!
Also see Rudy's video from his visit: Big carp and catfish at Croix Blanche/Tortue
UPDATE: Rudy's friend Danny de Clerck also got amongst some nice carp during the week. I have now been sent some pictures with fish of 35lb 2oz ; 35lb 6oz ; 36lb 10oz ; 37lb 8oz & 39lb 2oz. He also had a catfish of over 40lb. See the website for photos.
---
Croix Blanche Catfish


---
5th June to 8th June

Belgian carpers Rudi Bru and Pete Bleyaert got in amongst some superb carp and cats in a short three nighter in the company of their wives this week on the Tortue Lake.
As they arrived on the lakes they opted for peg 15 at the top end of the Tortue as there must have been 100 carp sunning themselves on the surface. The first 24 hours in the warm weather proved unproductive with just one small cat to show for their efforts. A change in the weather with a thunder storm and some rain soon put the fish back in the feeding mood and in the next few hours they banked several cracking fish.
Pete managed a lovely mirror of 45lb 2oz (20.5kg) as well as a 38lb 5oz (17.6kg) Common. Rudi not to be out done also landed some nice carp with a Mirror of 36lb 5oz and Commons of 24lb 5oz and 22lb 4oz.
The successful bait was the Proline Red Devils and a homemade garlic flavoured boilie. The flurry of action ended with the return of the hot sunny weather, and reluctantly they headed back to Belgium.
---
31st May to 5th June
Two fish over 20kg (44lb) were landed this week in a carp bonanza that left everyone happy. With the cats in a very voracious mood of late the carp had been hard to tempt, but not this week. The weather was roasting hot but it didnít put the carp off going on the munch. Andy Phillips opened the account with a cracking 47lb 8oz mirror from peg 14, while peg 10 followed suit 24 hours later with a 44lb mirror. The catch of the week though went to Adam Lowridge on peg 11 who banked 18 carp including 8 thirties as well as cats to 37lb. In all 15 fish over 30lb were banked with catfish to 45lb. Successful tactics were hempseed and boilies for the carp with Maineline Cell and SBS baits doing the business, where as pellets and boilies sorted out the catfish. Most carp came at dusk to midnight or early morning, as the days proved hot and still only producing the odd welcome daytime catch. Surprisingly most of the cats were caught during the day.
For more photos : June Catches
---
Croix Blanche Catch Round Up
24 April – 1 May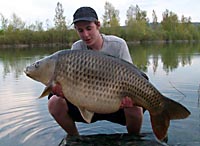 A good number of fish banked this week but it was the average size that was pleasing to see. The catfish were extremely active, and as comments seen on forums about other site they were giving good sport with some real monsters landed.
The best carp of the week was a superb 48lb common, a magnificent fish. Other large specimens included commons of 46lb 2oz; 38lb; 30lb 8oz. As for the mirrors the largest went 46lb followed by 3 fish of 39lb+; 30lb; 25lb; 22lb; 22lb.
The largest of the catfish went 81lb with others of 77lb; 77lb; 57lb 2oz.
Successful technique was pellets, hemp and the Croix Blanche Special boilies fished snowman style.
27th March to 3rd April:
During a week with the weather all over the place and a lot of heavy rain, Adrian Pitt and his mate managed to get amongst some nice fish on peg 13on the Tortue lake. The fished with particle, pellet and Monster Pursuit boilies to land 18 carp the best going 39lb 12oz. The tally included 7 fish over thirty pounds, including my Linear at 37lb. They also managed an 80lb catfish. The icing on the cake though was a superb 39lb common. Four of the fish he landed were known forties a little down in weight after the cold winter. Unlucky then, for Adrian who has yet to break the 40lb barrier.
On the last couple of nights they also tried a rod on the peg 5 of the Croix Lake and managed two 30's to 37lb and a lost fish.

3rd to 10th April :
A week where winter returned again at the start and frost and heavy rain saw the fishing slow right down. Less fish came out around the lakes to more anglers but I guess that's fishing. James Dawson on Peg 3 had the best tally with 6 carp to upper 20's and a 40lb catfish. His mate on peg 4, who was very keen to land a cat managed a couple of fish to 36lb.
Dutch anglers… on peg 11 braved rising water and tough conditions to bag a few nice carp to 31lb 9oz. They then switch to zig rig tactics and landed a brace of fabulous catfish of 40lb and 90lb.
A difficult week but the fish are starting to move. With the sun out now and Spring in full swing, catches can only improve.

Photos and more details to follow.
Cheers
Gareth

---
Bait on Site
I've finally got a bait supplier sorted for 2010 that can supply me with a "Croix Blanche Special" boile. I've gone to the Dutch company Proline to supply me and have now in stock a robin red, garlic bait based on their very effective 'Red Devil' boile that has been so successful on the lakes in 2009.
The bait is in 2.5kg bags, which are a more managable size than the 5kg bags I have don in the past and are similarly more affordable foe the anglers.
The price for 2010 will be 25€ for a 2.5kg bag, which is cheaper than most of the similar quality baits you can buy in tackle shops.
---
Spring Clean:
Well it's Spring again and the fish are moving. Its time now the weather is better to get all those jobs done that improve the fishery and could not be done during the colder weather.
Strimming: The first major task was to cut back the vegetation that has grown profusely around each peg. Armed with a chainsaw, and a petrol strimmer, I've been attacking the wild plants of the Croix Blanche. What amazes me though is that virtually every shrub I want to eliminate is armed with absolutely vicious spikes and spines!
Well most pegs have been opened out and cleaned. This has made the lake generally look tidier and well kept. Add to this a large number of trees that came down in end of winter storms and I've had my work cut out removing huge quantities of wood.
Num3ers: For years people have been asking me which peg is which. Nathalie has never got the lay out in her head and many anglers are the same, quoting the wrong peg for catches or the wrong peg on the wrong lake etc. So I have made up lake peg numbers that have been screwed to the trees on each swim. I made them out of slices of Birch that had the number stenciled on and a coat of varnish applied.
Mobile Home: The awning of the mobile home has a wooden structure, but was painted with a red coloured preserver that really didn't look nice. So Nathalie volunteered to take on the task of painting is tall in dark oak wood stain. She has just about finished and it looks really nice.
Shower block: The floor of the shower block has been bothering me for a year or so as it has scuffed up badly with the succession of boots from anglers and my desperate attempts to scrub it clean. I actually bought the floor paint last year, but either weather or anglers on the venue prevented me from getting it done. I really needed at least a week free to apply three coats and to make the shower areas look cleaner and fresher. Well it's been done and while its not the Ritz it certainly looks clean and tidy and as good as any campsite shower block I've used in the last few years.
Cheers
Gareth
---
Croix Blanche continues to produce big carp

22 November 2009

As the weather in France continues to remain mild the carp on the Croix Blanche lakes have remained active and have fallen regularly to anglers baits. Belgian carpers Paul and Pascal Rooseparck, on their third visit to the Croix Blanche venue, once again got in amongst the bigger venue residents. .
The run of excellent catches started in early November with Eric Dalenoord and a trio of forties and has continued well into the month with the latest haul of big carp.
Indeed Paul Rooseparck in just two night's fishing managed six big carp the two largest topping the 40lb mark.
Fishing on the productive peg 13 on the Tortue lake Paul banked mirrors of : 46lb 2oz; 41lb 8oz; 30lb 8oz; 29lb 7oz and a common of 30lb 8oz.
The successful tactic was bait boating boilies and particles to the central plateau and deeper water in front of this swim. This latest hit of fish comes on top of the week in July when Paul landed over 20 fish to just under 40lb.
---
New Carp for Croix Blanche Stock Pond
6th November 2009

November 6th saw me stock a new batch of young three year old carp into my stock pond at Croix Blanche Lakes. As part of my continued stocking policy since I have owned the venue it has been the practice to introduce young fish at this time of the year and leave them to over winter in quarantine before transferring them in the late spring / early summer once they have got spawning out of the way. This is precaution aimed to avoid any problems that stocking the directly has caused me in the past.
The carp were ordered from and delivered by Simon Horton and I must say they were superb looking fish, mostly deep high back mirrors of a chestnut brown colour and in the prime of health. Some were very round and described as 'pizzas' by Simon.
47 fish in total all from 15 to 24lb which added to the remaining fish in the pond that go to over 50lb, gives me a reserve of around 60 carp.

Judging by the growth rate that they have already shown, ie. 5lb to 8lb per year, I am confident with the regular feeding over the winter and until they are moved over to the main lakes they will all be 20lb to 25 lb plus.
Below is a selection of photos and a link to a video clip showing the stocking.
Click on each picture to enlarge.

Stocking Video

---
Trio of Forties from Croix Blanche Lakes
1st November 2009

by Gareth Watkins
The unseasonally mild spell we've been having saw the Vis Vakanties boss Eric Dalenoord and his friend Peter get amongst some cracking fish in the Croix Blanche Complex Tortue Lake.
The two carp anglers, who fished from Friday to Sunday this weekend opted to fish pegs 13 & 14 and soon got amonst the fish when Eric landed a superbly conditioned double figure common. This though was just a sign of things to come as the pair went on the bank 15 carp in just 48 hours fishing on the venue.
The successful technique was to use a baitboat with hemp, boilies and pellets and fish to the clear areas amongst the weed beds on the central plateau of the lake.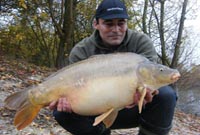 Eric's first night saw him bank 7 fish including a 44lb mirror, but things went up a gear on the second night when Peter landed a 44lb common and Eric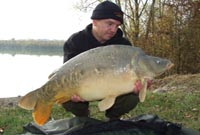 followed it up with a 40lb 8oz linear. This is a famous old fish and is in fact the first carp I ever caught from the Tortue back in 1999. This time though she was 5 pounds heavier than when she graced my net.
Further down the lake in peg 8 Roy Van Goor also got amongst a few fish with mirrors of 28lb and 31lb and a 28lb 8oz common.
The total tally of 21 carp included 3x forties & 6 x thirties the rest mostly upper 20's
See more of their catch in the Photo Gallery
---
Book Now for 10% Off 2010 Holidays
Croix Blanche Lakes is celebrating its tenth anniversary in January 2010.
The lakes opened their doors to travelling UK carp anglers back in January 2000 and have been run successfully for the last 10 years, making them one of the most established specialist carp fisheries in France.
The venue consists of two lakes of 6 & 8 acres .
Just 2.5 hours (150 miles) from the ferry port of Calais.
The lake has become well known over the years for its big carp and catfish.
The venue offers room for up to twelve anglers maximum, in a secure premises.
Facilities include hot showers and English toilets and an optional fully equipped mobile home.
To mark this anniversary all bookings made before the end of December 2009 will get a 10% reduction.
For 2010 bookings are taken direct with myself so no agents fees.
Contact: Gareth Watkins
Tel: 00 33 670 90 04 33
email: gareth@croixblanchelakes.com
website: http://www.croixblanchelakes.com
---
New Croix Blanche Catfish Record - The first Ton at 107lb 8oz
Dutch angler Johan Dummer got off to a flying start on his week to the lakes on 12th September. First night saw him land a fabulous 46lb 2oz common. Fishing on peg 13 of the Tortue lake. The session continued with a few smaller carp in the twenties before he hooked into the giant catfish.
The massive moggie picked up his pineapple and squid snowman bait on the same spot that produced the big common the previous sunday. The huge fish took over 2 hours to land and tipped the balance at 107lb 8oz, and constitutes a new complex catfish record. The fish is the first to be landed at over 100lb.
---
Croix Blanche News - September 2009
Well it's been a year of great change on the lakes, probably the biggest shake up in the last six years, certainly since we went over 100% to organised trips. The trips have now ceased and the venue has reverted back to 'Drive & Survive', which I hope will please some of the anglers who wanted to fish the venue but didn't want an all inclusive.

So what's New?:

The venue as many will have seen on the forums is no longer on the Angling Lines books. I have had my differences with the agency in recent times and we have now decided to go our separate ways. Anglers wishing to fish the lakes can now call me direct, or if you are in the Benelux call Eric at Vis Vikanties, email info@visvakanties.nl. The lakes have been open all year and frequented mostly by Dutch anglers.

There has been a lot of rumours and misinformation circulating about the lakes, most of which is rubbish. There were indeed some fish deaths in the early part of 2009, which as always causes problems, and often happens after a big stocking. This only effects a minority of the overall stock, thank goodness!
In January we had stocked nearly a ton of carp so numbers are still very good despite some fatalities. The venue still has a large head of fish, and several over 40lb to nearly 50lb have been landed this year.
In fact for those, mainly Dutch anglers, who did come the lakes were peaceful and catches on the whole pretty good. With the stockies going in at on average 23lb it stands to reason that the average size banked is lower than past seasons, but with the phenomenal growth rates this can only improve. We hardly had one week without a carp over 35lb on the banks.

The catfish have done well too and the 100lb barrier was missed by only a few pounds early in the year. I'm sure if a angler targeted these fish then the magic ton is easily possible.

So what's new for 2010?

Well the mobile home has been refurbished and is now available for rent as an optional extra. This is perfect for wives, girlfriends and families.

We do a good deal on a lake exclusive, so for 1475 € you can chose your lake and book for upto six anglers. This has proved very popular with the Dutch and Belgian anglers this year as you know you will not be fighting for the best swim with a stranger.

Finally I look forward to seeing the venue turn round and go from strength to strength now and that I'll have the pleasure of your company in the near future.

Tight Lines
Gareth